Texture Tools

INNOVATIVE ROLLER TECHNOLOGY GIVES DECORATIVE CONCRETE CONTRACTORS A WIDE RANGE OF TEXTURES.
Artcrete has developed a line of texture tools (patent pending) that use interchangeable texture sleeves. The interchangeable sleeves come in two sizes, 22-1/2 inches and 6 inches, and allow contractors to offer additional textures for minimal additional cost. The frame handle protrudes from only one end allowing the application of texture against walls.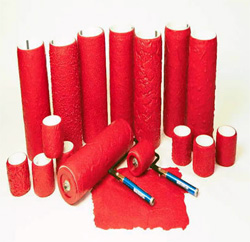 Large expanses of concrete can normally be textured without walking out onto the concrete using these rollers and extension handles. Occasionally, small areas may not be accessible to the large roller. For these occasions, a small six-inch wide handheld roller and twenty-four inch square mats with the same textures are available to facilitate walking out onto the concrete and texturing small areas. This texturing technique is effective on all freshly poured concrete surfaces and is particularly well suited for stenciled concrete. Using these tools together with a powdered release agent containing appropriate pigment creates an extremely authentic appearance on certain stone and slate patterns. Wherever the roller creates a depression in the surface, the pigment is transferred to the concrete leaving shadowed depressions similar to those in nature. These rollers also work well with clear liquid release agents followed by liquid antiquing agents.